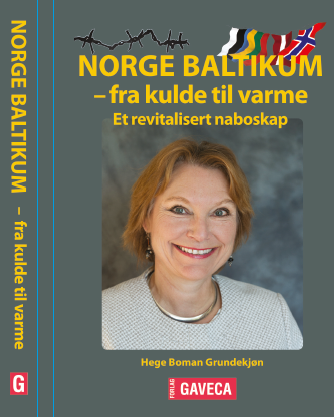 "Boken er meget god, skarp, kunnskapsrik og velskrevet! Mye historie som for meg var ukjent, og jeg er glad for brodden forfatteren har når det gjelder blant annet Norges forhold til de baltiske statene." 
Knut Olav Åmås, direktør i Fritt Ord.
" – Dette er et storverk skrevet av en person som har evnet å leve seg
inn i sjelen til et folk som har gitt liv, lidd og kjempet for den friheten vi tok som en selvfølge etter krigen. Hun har i boken gitt jævelskapen et både ansikt og uttrykk og satt demokratiets pris inn i en storpolitisk ramme der noen bør skamme seg og andre roses. Hun
sprenger humanitet og menneskeverd inn storpolitisk strategi ogideologi."
Nils P Vigerstøl, forlegger i Gaveca
Norge Baltikum: kr. 398,-
(Latvia med Knut Hamsun og Karlis Padegs:kr.250,-)
Selges samlet for kr. 500,-.
Kan kjøpes ved bestilling hos post@gaveca.no
"Latvia med Knut Hamsun" er jo den reneste gullgruve for oss
Hamsun-freaks med et vell av relevante og helt nye opplysninger. Synd for meg at ikke boka var tilgjengelig da jeg arbeidet med
tobindsverket om Hamsun, eller da jeg redigerte det internasjonale
etbindsverket, som blant annet er utkommet i Latvia. Etter å ha vært i Latvia tre ganger leste jeg også stoffet om dettelandet og folket med ekstra stor interesse."
Ingar Sletten Kolloen,
Hamsun-biograf
Latvia med Knut Hamsun og Karlis Padegs:kr. 250,-
(Norge Baltikum: kr. 398,-)
Selges samlet for kr. 500,-.
Kan kjøpes ved bestilling hos post@gaveca.no
"Jan Erik Holst's book Stork Flying over Pinewood was without doubt one of Riga IFF highlights. Within the frames of very first Riga International Film festival we had the opportunity to look back at the Baltic-Nordic co-operation from the whole independent period, starting from 1989, till now. This had a deep symbolic meaning. In his book, Jan Erik Holst has made an unique, extensive research, besides the focus on cinematic projects, describing also the development on Independent Latvia and it's cultural space".
SONORA BROKA,
DIRECTOR OF RIGA INTERNATIONAL FILM FESTIVAL
"I can highly recommend the book on Nordic-Baltic Cooperation 1989-2014".
DR. MARTIN BLANEY,
SCREEN INTERNATIONAL – CORRESPONDENT, BERLIN.
An exquisite book, elegantly organized, and an excellent mapping of a territory relatively unknown, yet important from a cultural-political perspective. I honour your achievement and the fine result.
PER HADDAL,
LEADING NORWEGIAN FILM CRITIC
kr. 149,- 
janerik.holst@gmail.com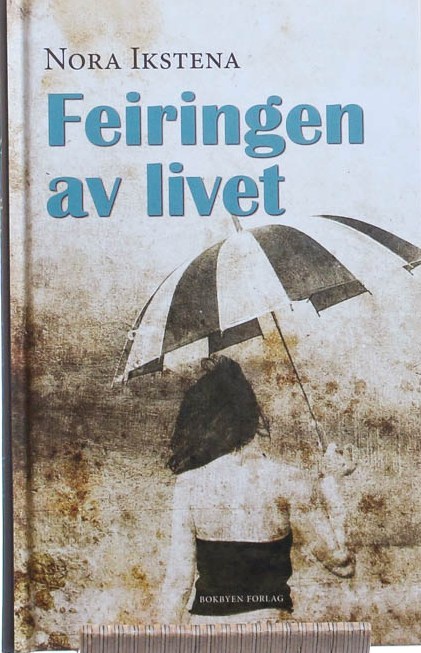 "Romanen begynner med en drøm og slutter med den samme drømmen – med forskjell bare i en eneste frase. Det er en veldig virkningsfull manøver: Det som vi anser som realitet, viser seg å være bare en ubetydelig overgang fra en drøm til en annen. For det er denne drømmen som egentlig er bemerkelsesverdig og har fortjent en høy status i verdens litterære kanon for drømmer: nesten som en legende om syndfloden, nesten som en skapelsesmyte, men her har handlingen for lengst blitt glemt og blitt skapt om til en tekst som nærmest minner om en galdresang. Men det å utføre en galder er selvfølgelig det samme som å skape verden. Blant trylleord finner vi den mystiske frasen "La den levende dø og den døde leve", som på et uforklarlig vis ser ut til å ha vært selve grobunnen til romanen. Om man vil, kan man lese Feiringen av livet som romanens kommentar: om å leve etter døden, om å dø mens man lever, om feiring av livet under dødens vinge. Selv om det å trekke rasjonelle konklusjoner fra Ikstenas verk er en aldeles utekkelig (og helt sikkert lite nyttig) foreteelse."
Guntis Berelis, litteraturtidsskriftet Diena.
kr. 198.-
Bokbyen Forlag. www.bokbyen.no eller i bokhandlerne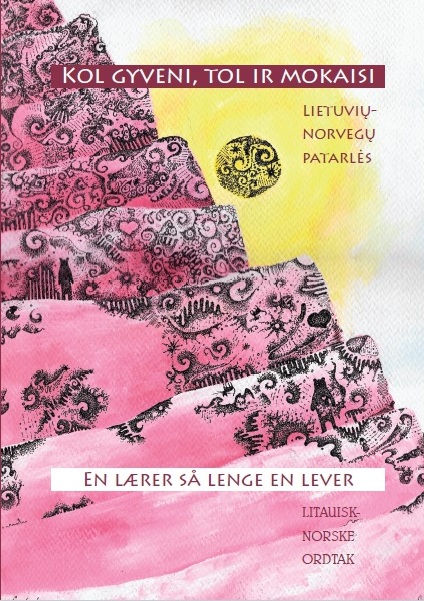 LITHUANIAN-NORWEGIAN PROVERBS  
INTERNATIONAL PROJECT LIVE AND LEARN
Lithuanian-Norwegian Proverbsbook is sponsored and presented by Lithuanian Community in Norway (Litauisk forbund i Norge)
The unique multicultural, multinational and multilingual project Live and Learn has been nominated for London Book Fair International Excellence Awards 2019 among the three best in the world in the category "Educational Learning Resources". It produced a series of innovative, exciting and pedagogically sound, new learning resources.
The project Live and Learn has involved schoolchildren from different countries. Children of different nationalities and age groups,as well as children with disabilities and special needsillustrated their native proverbs: schoolchildren from Lithuania illustrated Lithuanian proverbs, kids from Great Britain draw the English equivalents, Russian kids painted Russian proverbs, German kids illustrated German proverbs and Norwegian schoolchildren draw Norwegian proverbs. As a result, the series of illustrated dictionaries of Lithuanian-English Proverbs,Lithuanian-Russian Proverbs, Lithuanian-German Proverbs, Russian-English Proverbs, and Lithuanian-Norwegian Proverbs Live and Learn were published.
These illustrated books are multifunctional. They are a work of art, they have outstanding lexicography, and they are a rich resource for enhancing and broadening the learning and learner's experience, whether in schools, home or clubs. The books are a great opportunity for the children who want to perfect their native tongue and improve their understanding of a foreign language.
The project Live and Learn is aimed at encouraging students to learn new proverbs through drawing, to stimulate their creative interpretation and understanding. Furthermore, it aims to compare how the same proverb is interpreted and understood by Lithuanian children, Russian kids and their peers in Great Britain, Germany and Norway. Also, the project seeks to encourage children to use a figurative speech and to enrich the knowledge of the language, at the same to learn a foreign language and improve it through the creative expression.
Pris: kr 150,-
bestilling: lina.baltrukoniene@gmail.com